It Works Ultimate ThermoFIT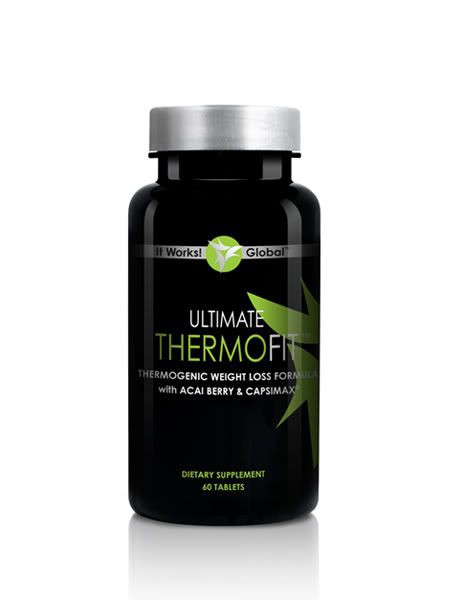 Loyal Customer $39
It Works Ultimate ThermoFIT Product Description
Fire up your metabolism with this naturally based, thermogenic weight loss formula! Powered by the antioxidantsuperfood acai berry and the metabolism-boosting properties of Capsimax® (red hot pepper blend), UltimateThermoFit helps to:
Thermogenic weight loss formula
Antioxidant benefits of acai berry
Promotes increased calorie burning
Helps boost metabolic rate
Reduces appetite
Provides energy
Made with Natural ingredients.
Loyal Customer $39
It Works Ultimate ThermoFIT Frequently Asked Questions
What is Ultimate ThermoFIT?
It Works ThermoFit is a naturally based, thermogenic wight loss formula that increases thermogenesis in the body. Thermogenesis is the process by which the body raises its temperature, or energy output. An increased energy output means the body has to raise its metabolic rate. As a result, more fat and calories are burned faster to support your higher metabolism and your lean muscle increases faster.
What are the benefits of Ultimate ThermoFit?
Capsimax is the active ingredient in It Works ThermoFit that naturally increases thermogenesis. Derived from the hot pepper plant, Capsimax not only boosts your metabolic rate and increases your energy levers but also curbs your appetite so you eat less and have fewer cravings. Ultimate ThermoFit is also fueled by acai berry, an antioxidant-rich "superfood." Studies show that a diet rich in antioxidants may slow the aging and disease process by neutralizing free radicals.
What is the recommended dosage?
Take two to three tablets daily with meals or just before.
Check out the It Works ThermoFit video.